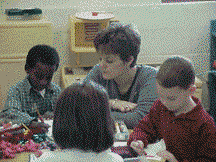 North Carolina and Guilford County have some of the finest schools in the country. A recent article states:

North Carolina's public schools are improving - student achievement is up, teachers are better prepared, and citizens support the schools. Here are a few of the facts:
North Carolina is well on its way to having the best schools in America by 2010 according to the inaugural First in America 2000 Progress Report for K-12 schools released by the Governor and the Education Cabinet in December 2000.

North Carolina received the highest score of any state for Improving Teacher Quality, according to Education Week's fifth annual 50-state report card on public education released in January 2001. A letter grade of B+ was the highest grade given to any state in this category, and only four states earned Bs of any type on the measure of Improving Teacher Quality. North Carolina also earned a B+ on Standards and Accountability, a category that has earned the state high marks from Education Week in previous years.
Read the entire article here.
For more information about NC schools, you are invited to visit these websites:
Below are links to some of the area colleges and universities:
Web Hosting & Design by www.Mservers.net.
If you find problems with this website, please email the webmaster.